I am flying over the Atlantic Ocean, going back home to Boston from Brussels. Nearly everyone on the plane is sleeping but I am curled up with my laptop thinking back to TEDxBrussels and unable to stop smiling.
Unfortunately, I was the only one who got to stand on the TEDx stage on Monday, but there were countless people without whom I wouldn't be standing there. This post is a thank you to all of them.
Thank you to my incredible Mom who was with me from the first time I spoke my speech to the final time on the TEDxBrussels stage. Thank you for being an amazing support system across these past few months… but really, it's more like throughout my life. Thank you for helping me pick out my outfit, for helping me stick to deadlines, for giving me feedback on my talk and letting me practice it for you countless times. Thank you for going with me to all the TEDx rehearsals and the warm-ups. Thank you for getting me water and crackers when I was curled up in bed with food poisoning a few hours before my talk. I couldn't have done this without you.

My mom came early with me to the theatre to rehearse. My dad edited the sound track for my dance. 
Thank you to my wonderful Dad slash visual design consultant slash audio engineer slash photographer. Thank you for all of your help revising my speech and slides in preparation for TEDx. Thank you for editing the soundtrack for my dance. Thank you for always sitting down to help me when I showed up (pretty much every day) unannounced at your work in the week leading up to the talk. Thank you for basically demolishing our living room in order to set it up as a photo studio and take that one picture of me for the TEDx slides. Thank you for being my unwavering supporter.
Thank you to my amazing boyfriend Sidney, who was willing to spend his rare weekend in Boston with us locked up together in a conference room tearing down the structure of my talk and building it up again into what was presented on Monday. Thank you Sid for staying up into the wee hours of the night in China to edit versions of my talk, for hearing my speech countless times via Skype, for calming me down when I would freak out about my outfit or something else, and for being incredibly supportive through every bit of my preparation process.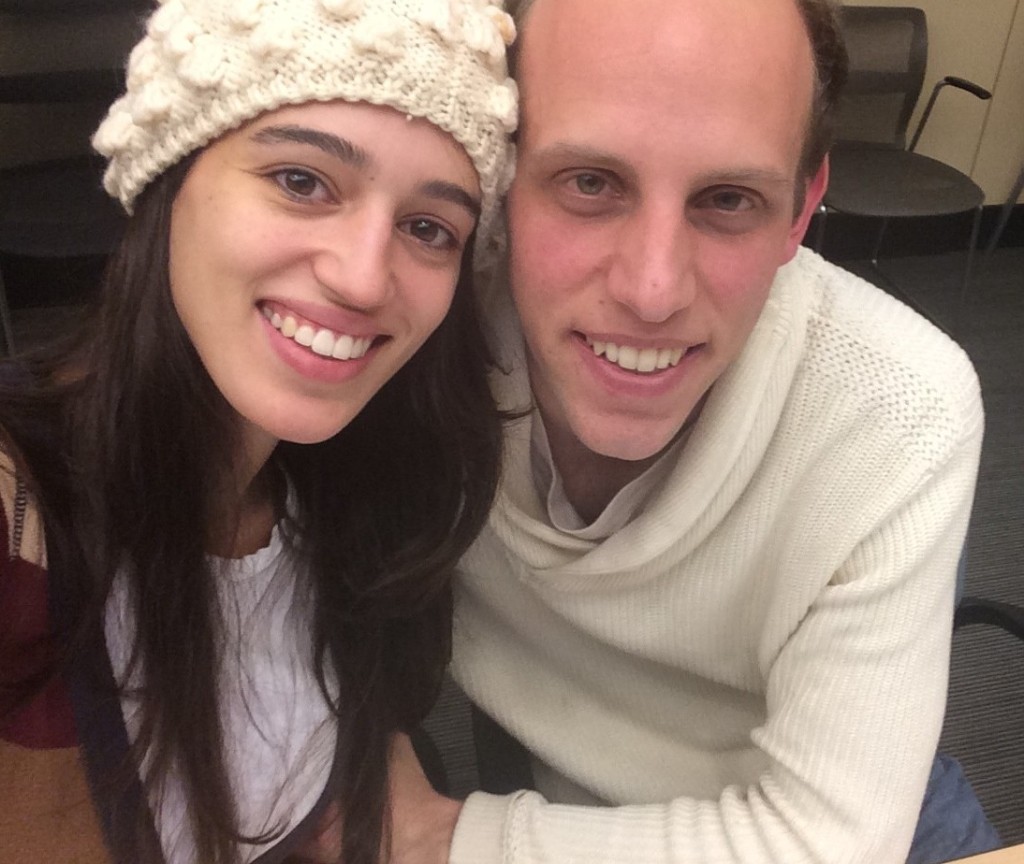 Sidney and I going through my talk for the nth time around 3am in an MIT conference room. 
A huge thank you to Molly Wheat, my ballet coach, for helping me choreograph and rehearse my TEDx dance. Molly thank you for being an incredible teacher who gives just the right balance of corrections and encouragement.
Thank you to my friend, lab mate and daily confidante Katerina Mantzavinou for giving me feedback on my talk and outfit. Thank you for your help in choosing the right words and structuring the transitions of my talk. I know I can always turn to you for honest feedback, for a pick-me-up, or for some stress relief and I am incredibly thankful to have you in my life.
Thank you to my friend and MIT Hacking Medicine co-director Priya Garg for giving me feedback on my talk, helping me re-structure it, being an amazing cheerleader, and, especially, for picking up my slack within MIT Hacking Medicine as I poured all my time into this TEDx talk.
Thank you to the people who listened and gave feedback on my talk: Cole Shelton, Raj Barnerjee, and Lynn Jiang. Thank you for your time and very valuable suggestions.
Thank you to the people from the hackathon teams I featured in my talk – Kris Olson, Catherine D'Ignazio, Robyn Churchill, and Tim Brothers – for your generous time chatting with me on the phone making sure that I had all the information I needed for my talk.
Thank you to my amazing friends Frida Kjellberg and Patrik Sjöbom who flew all the way from Sweden to watch my TEDxBrussels talk! It was one of the highlights of my weekend to see you two and it made me so incredibly happy and more at ease to have friends in the audience.
Thank you to Chao He, Shivangi Bajpai, Ally Yost, Andrea Ippolito, Ryan Carroll, and Alex Chen for giving me great ideas for anecdotes and medical examples that I could use in my talk.
Thank you to my friend Lauren Friedman for sitting down with me in the wee early days and helping brainstorm what to talk about and for being supportive throughout the whole process. Thank you to my friend Ayesha Khalid who just gave her TEDxBeaconStreet talk and provided me with lots of tips on the process. Even though I meant to give you both my more finalized talk and did not get time to do so, it means a lot to me to have friends who I know were there for me. Thank you.
Thank you to my roommates Isha Jain, Abbie Groff, and Evi van Itallie for their support and for being understanding as I slacked on my apartment cleaning chores leading up the event (…sorry!).
Thank you to Zorina Pitkin, VP at the company where my mom works, who literally gave me the jacket off her back when my mom mentioned (2 days before I flew off) that I was still unhappy with how my outfit looked. Zorina was wearing a black jacket at the time, took it off, and put it in a bag for my mom to take to me. The jacket fit perfectly and was crucial to completing my outfit.
Thank you to PillPack for letting me talk about your success story.
Thank you to MIT Hacking Medicine and all of our health hackathon participants for being such an amazing, inspirational bunch!
Thank you to Tuesday Night Toastmasters at MIT for being such a welcoming group and supportive public speaking venue, and for giving me a great place to test out different ideas for my TEDx speech.
Thank you to dance photographer extraordinaire Gene Schiavone for letting me use his beautiful ballet photos.
Thank you to Maria at Joseph's Tailor for altering my skirt on such short notice and doing an amazing job with it as always.
To ASOS customers – I'm sorry I basically bought out the supply of silver skirts!
A humungous thank you to Walter & Sam De Brouwer who invited me to speak at TEDxBrussels. Thank you for thinking of me, for giving me this incredible opportunity, and for being such amazing, gracious hosts in Brussels.

Walter and Sam presenting at TEDxBrussels. 
A huge, huge thank you to the TEDxBrussels volunteer team for putting together such a professional event and making it such an amazing experience for me. I had an incredible time.

The TEDxBrussels volunteers. 
I wrote in my grad school applications that during this phase of my life I wanted to find an intellectual home. Preparing for TEDxBrussels has given me the chance to reflect on this and I feel like that's exactly what I've already found. The folks I've met so far in graduate school are brilliant, helpful, interesting people who were incredibly responsive whenever I asked for help. Reaching out to people in preparation for my TEDx talk has shown me what an amazing community I have around me and I am incredibly thankful for that.
It's been a long journey from these early days of post-it note sketches to the TEDx stage. Thank you from the bottom of my heart to everyone who has been involved in my journey.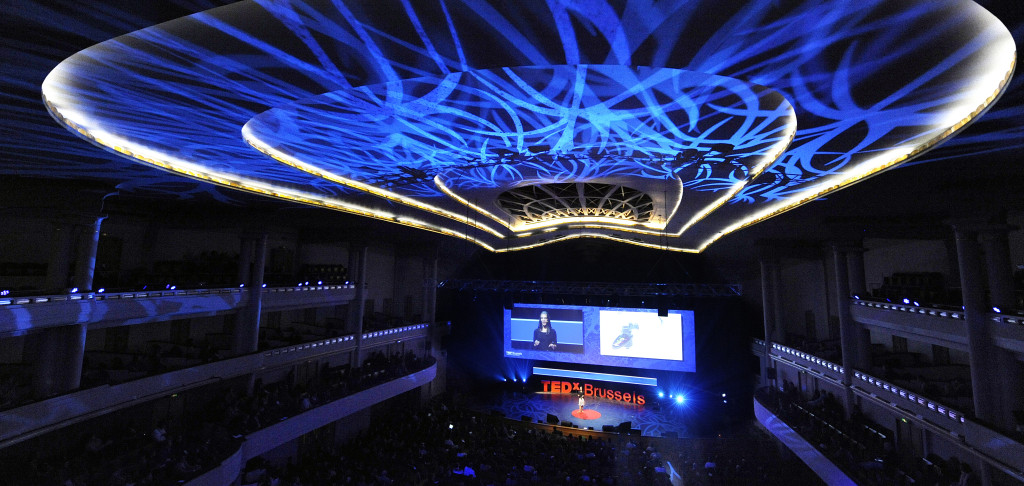 Photos © TEDx Brussels/Scorpix. See more photos here: https://www.flickr.com/photos/TEDxBrussels.